Welcome Prof. Xiaoming Zhang from Hebei Uiversity of Tchnologyto be Keynote Speaker!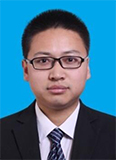 Prof. Xiaoming Zhang
research experience
Xiaoming Zhang is currently a Professor at Hebei University of Technology. In 2015, he received his Ph.D. degree from Institute of Physics, Chinese Academy of Sciences, Beijing. Hw worked as a postdoctoral researcher from 2015 to 2018 at RLQM in Singapore University of Tecnology and Design. He joined in Hebei University of Technology in 2010. His study focuses on condensed matter theory; topological effects; electronic and transport properties of materials; topological materials; 2D materials. He has published 60+ SCI research papers in corresponding field, which have been cited more than 2500 times from Google Scholar.The H-index is 29. More imformation of his research can be found in https://clxy.hebut.edu.cn/szdw/fjs/98940.htm.